Remediation
Products
&
Services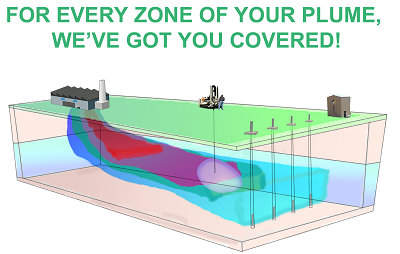 Site Remediation Solutions
When it comes to contaminated site remediation there is a broad range of possible solutions. Tersus offers a diverse selection of products and technologies. For every zone of your plume, we've got you covered!
Surfactant-Enhanced Aquifer Remediation
Surfactant-enhanced aquifer remediation (SEAR)
is a cost-effective alternative to conventional pump-and-treat remediation for aquifers contaminated by non-aqueous phase organic liquids. Tersus is the worldwide distributor of the leading surfactant technology,
TASK™
(Tersus Advanced Surface Kinetics), and related products, including patented methods for
in situ
surfactant and chemical oxidation. Supported by nearly two decades of research and testing at the University of Oklahoma,
TASK™
offers a wide range of applications related to hydrocarbon contamination flushing.
Emulsified Zero-Valent Iron (eZVI)
eZVIis an emulsion of powdered zero-valent iron, surfactant, vegetable oil, and water specifically designed for the remediation of source zones impacted with halogenated hydrocarbons. eZVI has the unique ability to mix with dense non-aqueous phase liquids (DNAPLs) by capitalizing on the ability of food-grade surfactants, biodegradable vegetable oil, water, and zero-valent iron to form hydrophobic emulsion droplets (micelles) that are miscible with DNAPL material. Abiotic reductive dechlorination occurs as the halogenated hydrocarbons in DNAPL diffuse through the outer oil membrane into the interior aqueous phase of the emulsion, which contains zero-valent iron. Enclosing zero-valent iron within a hydrophobic membrane protects the nano-microscale iron from native groundwater elements that might otherwise waste the iron's reducing capacity. This subsequently reduces the mass of eZVI available to treat target contaminants and lowers overall project costs. In addition to the abiotic reactions provided by the ZVI, the vegetable oil and surfactant components present in eZVI act as a long-term electron donor for enhanced biological reductive dechlorination.
In Situ Sorption and Biodegradation
Combining powdered activated carbon with an electron acceptor to stimulate biodegradation, NutriBind® is designed to address the challenges inherent in soil and groundwater remediation. NutriBind®is a powdered reagent that, once applied, delivers rapid contaminant concentration reduction combined with accelerated bioremediation.
Zero Valent Iron (ZVI)
Looking for a
ZVI
solution? Tersus offers Höganäs'
Cleanit®
technology, a uniquely engineered
ZVI
media that is extremely porous and reactive and has a large surface area, providing exceptional performance. Here is a comparison between the performance levels of typical
ZVI
and
Cleanit®
, by hydrogen production:
Gas production rate of Cleanit® is about 8 times higher
Total yield of gas production is 53 times greater with Cleanit®
Cleanit® continuously produces gas for more than 250 days opposed to 15 days by typical ZVI
Cleanit® reduces remediation time drastically
Using Cleanit® passivation is very slow
In Situ Chemical Reduction (ISCR)
In Situ Chemical Reduction (ISCR)
is an innovative environmental technique used for soil and/or groundwater remediation that reduces the concentrations of targeted environmental contaminants to acceptable levels.
Enhanced Anaerobic Bioremediation
Enhanced anaerobic bioremediation
requires adding sufficient organic substrate (electron donor, such as
EDS-ER™
, and nutrients, such as
Nutrimens®
) to satisfy electron acceptor demand from both inorganic and organic compounds (e.g., chlorinated solvents) in the treatment zone.
Enhanced Aerobic Biodegradation
Enhanced aerobic biodegradation is the practice of adding oxygen to saturated soil and groundwater to encourage and sustain the growth of microorganisms required for
in situ
bioremediation of contaminated groundwater. It is typically used to treat low to moderate levels of contamination. Our product offerings include:
TersOx™ - a specially formulated inorganic peroxygen, calcium peroxide, that produces a controlled-release of molecular oxygen
Waterloo Emitter™ - a simple, low cost in well device designed for the controlled and uniform release of oxygen, or other bioenhancing amendments
Our skill and experience implementing in situ remediation creates high-value solutions to complex groundwater and soil contamination and related issues at a lower cost. Tersus welcomes the opportunity to provide you and your team with the tools you need to successfully plan and execute your next project.
Request a Site Evaluation
Have questions or want to explore some ideas? Contact Us to learn how we can put together a money saving program to get your project over the finish line. If you currently have a project and need a remediation solution now, request a site evaluation by supplying us with the appropriate site information at this link.
Learn More
Is one of the above technologies the right solution for your contamination concern? Find out here